Western Cape Districts
The Western Cape is divided into six Districts:
City of Cape Town Metropolitan (Cape Town Unicity)
Cape Winelands District
Central Karoo District
Eden District
Overberg District
West Coast District
The image below depicts the Municipalities within each District: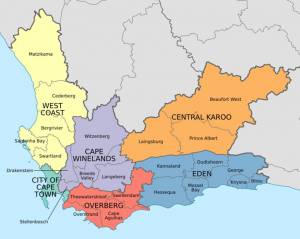 District Associations
In line with SASCOC requirements for provincial sports governing bodies to align with Districts created within each province, governing bodies for all six districts will be formed in due course.  These districts will report to the Western Cape Sport Council through the Western Cape Triathlon Association (WCTA).
WCTA will control the six Districts so that there is uniformity in the Province.  A lot of work has happened in the background and an interim committee has been elected to manage this until more districts have been established.
The new Cape Town Unicity Triathlon Association (CTTA) has already been established!
Not in the Unicity?
If you do not live within the Metropole of the Cape Town Unicity, there's no need to panic.  Any member of the former Western Province Triathlon Association, or any athlete living in the Western Cape will be taken care of by CTTA and / or WCTA until a District Association has been formed in each area.  For registration, all Western Cape based athletes will register under the WPTA page on the TSA Registration System.
Members will not be required to join a District before it is up and running properly.
Cape Town Unicity Triathlon Association (CTTA)
The Western Province Triathlon Association (WPTA) has been transitioned to the Cape Town Unicity Triathlon Association (CTTA).
CTUTA Committee
The Cape Town Unicity Triathlon Association Committee consists of the following members:
Chairman:                            Justin Manson-Kullin
Vice Chairman:                    Gert Wilkins
Secretary:                               Petro Neethlinga
Treasurer:                             Alice Oosthuizen
Technical:                             Mike Hodgson
Events:                                  Rolf Muller
Marketing:                           Debbie Hibbert
Membership:                        Petro Neethling
Other:                                   Petro Neethling
CTUTA Constitution
Click the link below to download the latest CTTA Constitution: